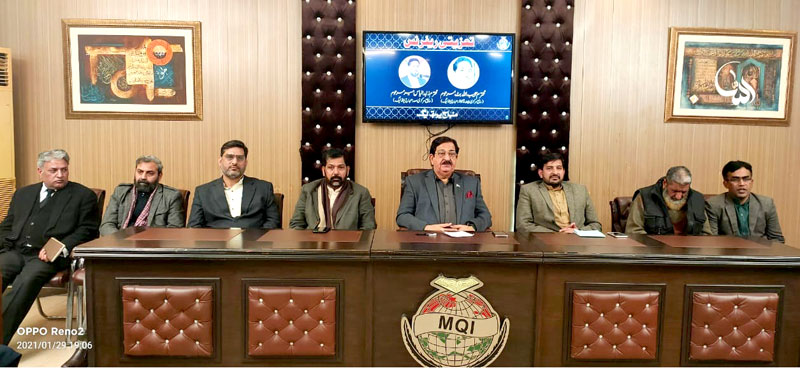 A condolence reference was held at the MQI central secretariat to pay tributes to the services of the former president of Minhaj Youth League, Zahid Ilyas Mir, and vice president of PAT Central Punjab, Habibullah Butt. People belonging to various walks of life including the central leaders of MQI, PAT, and MYL as well as the family members of the deceased leaders attended the reference.
The speakers threw light on the services and contributions of the late PAT and MYL leaders and paid them rich tributes for their dedication, commitment, and loyalty towards the ideology of MQI.
Speaking on the occasion, MQI Secretary General Khurram Nawaz Gandapur said that the manner in which the services of both the late leaders are being remembered is enviable which speaks volumes about their contributions. He said that late Habibullah Butt and Zahid Ilyas Mir had their relationship of love and deep association with MQI, Shaykh-ul-Islam, Islam, and Pakistan till the last breath of their lives. He said both the youths were included among those who create their own world. He said the tributes being offered from far and wide speaks to the strength of their character.
Central president MYL Mazhar Mahmood Alvi said in his remarks that both the leaders were a great asset to MQI. He said Habibullah Butt and Zahid Ilyas Mir put thousands of the youths on the path of Islam from the platform of the Minhaj-ul-Quran Youth League.
Ijaz Butt, the brother of Habibullah Butt and his sons Sanaullah Butt and Hasibullah Butt also addressed the condolence reference. Their eyes welled up and their speech was choked with emotions while talking about the deceased. They could not speak for a long time.
Shahid Ilyas Mir and Zeeshan Ilyas Mir, the brothers of Zahid Ilyas Mir, also spoke at the ceremony and shared their feelings on the loss of their beloved sibling. Syed Altaf Shah Gillani, Ishtiaq Chaudhary Advocate, Sajid Mahmood Bhatti, Hafiz Ghulam Farid, Mansoor Qasim Awan, Zeeshan Baig, and Mohsin Shahzad were also among those who expressed their views on the occasion. Bashir Khan Lodhi, Tayyab Zia, and other senior leaders also attended the reference.
The condolence reference concluded with Dua for the departed souls.